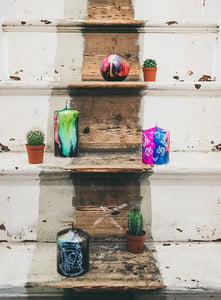 £

5.50
Hand painted tie dye pillar candles (Unscented)
Each candle is individually hand painted with speciality inks, care and lots of love, so the pattern and colour may vary slightly from candle to candle, however each one is just as beautiful as the next.
Measurements:
Small - 78mm (diameter) X 100mm (height)
Medium - 78mm (diameter) X 140mm (height)
Large - 78mm (diameter) X 230mm (height)
Candle Ingredients: Paraffin and Vegetable Wax. Cotton wick.
If you chose to light your tie dye candle be sure to place it on a heat resistant surface and away from anything flammable.